An M3U list is a text file that contains a list of multimedia files (audio or video) and their locations in a particular order. M3U stands for Moving Picture Experts Group Audio Layer 3 Uniform Resource Locator (M3U). The M3U format was originally designed for the Winamp media player, but it is now used by many other media players and streaming services.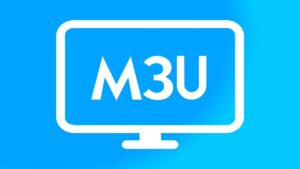 How to Use an M3U
To use an M3U list, you need a media player that supports the M3U format. Here's how you can use an M3U list to play multimedia files:
Open the media player on your device.
Import the M3U list into your media player. The steps to do this will vary depending on the media player you are using. In most cases, you can simply drag and drop the M3U file into the media player or use the "Open File" option to browse for the M3U file.
The media player will display the list of files in the M3U list in the order they appear. Simply select the file you want to play from the list to start playing it.
It's important to note that the M3U list must contain valid file paths or URLs for the media player to play the files correctly. If a file path is incorrect or the file is no longer available at the specified location, the media player may not be able to play the file.
M3U is the most used IPTV script among all IPTV users and it can be used on Smart TV, Smartphones, Android setup boxes, STB emulators, Roku and so forth.
How to edit an M3U file and create a favorites list
To edit an M3U file and create a favorites list, follow these steps:
Open the M3U file in a text editor such as Notepad or TextEdit.
Locate the multimedia files that you want to include in your favorites list.
Copy the file paths or URLs of these files and paste them into a new text file.
Save the new text file with a different name and the extension ".m3u".
You can now open the new M3U file in your media player and it will contain only your favorite multimedia files in the order you specified.
To make changes to an existing M3U file, you can simply open it in a text editor, make the necessary edits, and save the file with the same name and extension.
Keep in mind that if you're editing an M3U file for streaming content, you should only include the URLs for the streams that you have legal access to. Sharing unauthorized content is illegal and could result in legal consequences.
Creating a favorites list in an M3U file is a great way to easily access your preferred multimedia content without having to search through a larger playlist.
Why the channels are not categorized
The reason is that you are using a simple M3U URL or file. In order to have channels in groups and categorized, you must use M3U with options as your IPTV script. What are IPTV scripts or video formats?
The progressive IPTV providers give you a dashboard which you can download your M3U url, generate M3U with options url and reload your list to have channels categorized.
If the M3U file you're using is not categorized, you can try organizing it yourself by creating groups or playlists within the file. You can also use a text editor to sort the channels or multimedia files alphabetically or by category. This can make it easier to find and play the channels or multimedia files you want.
If you don't have access to any dashboard system ask your IPTV provider for M3U with options url.
---
Great Premium IPTV Subscription
Great IPTV is Premium IPTV provider with more than 12,000 channels and more than 9,700 VOD a private server using +10Gbps Network, we at Great IPTV are looking forward to Help All IPTV Users to enjoy their IPTV Subscription, we have Premium IPTV Subscription Which you can BUY Great IPTV Premium Subscription From Here