EPG (Electronic Program Guide) is increasingly available with digital TV programming. EPG is a feature utilized with most digital IPTV devices and modern televisions to post current and cataloged programs that are or will go live on each specific channel and represents a brief review or explanation for each TV program.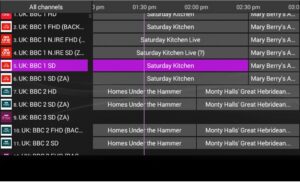 EPG can always be obtained by using a remote control for your IPTV device or TV. The menus are presented that enables the end user to inspect a list of TV programs listed for the upcoming hours up to the following seven days. A standard EPG combines options to establish parental controls, purchase pay-per-view contents, explore the programs based on subject or category, and also adjust a recording device to record the programs based on a specific time. All digital television providers propose their own unique user interface and data for their EPG.
What is EPG time-shift?
EPG time shift refers to the ability to pause, rewind, or fast-forward through a program that is currently being displayed on an Electronic Program Guide (EPG). This feature is often available on devices that have a built-in EPG, such as television receivers, set-top boxes, and other devices that are capable of receiving and displaying television programming.
To use EPG time shift, you will typically need to press a button on your remote control or device to access the EPG, and then use the pause, rewind, or fast-forward buttons to control the playback of the program. For example, you might use the pause button to pause the program if you need to take a break, or the rewind button to go back and watch a scene that you missed. EPG time shift can be a useful feature for viewers who want to watch a program at their own pace, or who need to pause the program for any reason. It is also often used to skip commercials or other content that is not of interest to the viewer.
---
Great Premium IPTV Subscription
Great IPTV is the best IPTV provider with more than 10,000 channels and more than 40,000 VOD a private server using +10Gbps Network, we at Great Premium IPTV are looking forward to Help All IPTV Users to enjoy their IPTV Subscription, we have best Premium IPTV Subscription Which you can BUY Great IPTV Subscription From Here.